How Did the Low Code Revolution Start?
Businesses today must move quickly or risk being left behind. Companies have discovered numerous ways to become more agile, one of which is to allow non-IT professionals to build their own applications. Low code Revolution design is the technology that enables this.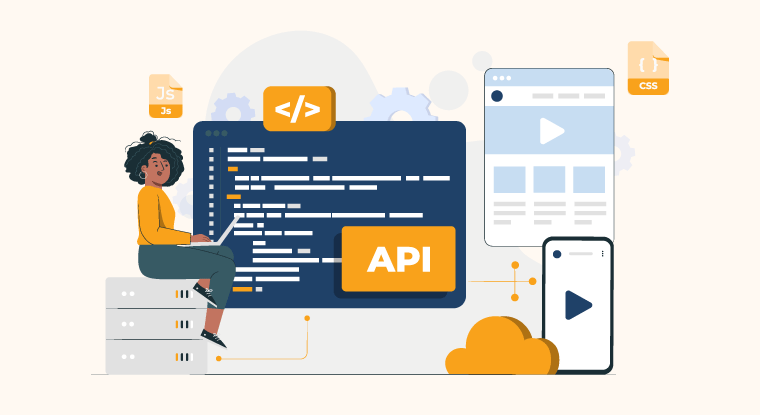 While IT team members may be required to assist with the process, their engagement may be significantly less extensive, allowing them to focus on other vital activities such as digital transformation initiatives. The increased agility afforded by low code app builder enables enterprises to decrease costs, boost productivity, and drive innovation.
What Is The Low Code Revolution?
Before we look at how the low code no code movement has evolved, we need to first understand what these two terms mean.
Platforms with no code perform exactly what the name implies. No-code platforms aim to make software development as simple for non-technologists as using Word or PowerPoint. Without the need for costly engineering staff, the common business user can drive initiatives ahead.
A low-code developer platform (LCDP), on the other hand, is defined as a platform that supports rapid application development, one-step deployment, execution, and management using declarative, high-level programming abstractions, such as model-driven and metadata-based programming languages. Coding abilities are still required for low-code solutions. However, they strive to accelerate software development by allowing developers to work with pre-written code components.
The promise of low code app development is filling the development landscape (LCDP). If these technologies deliver on their promises, they have the potential to change the way corporate organizations handle their software development demands.
Given the current state of technology, it's not surprising that these solutions are being accepted with open arms. IT leaders are facing increasing challenges with application delivery. Developer shortages and skill-set issues are hampering the capacity to satisfy the needs of growing degrees of corporate automation. As a result, providers of low-code platforms have increased their efforts. They have been working to make it easier to deliver commercial apps.
How Has The Movement Evolved?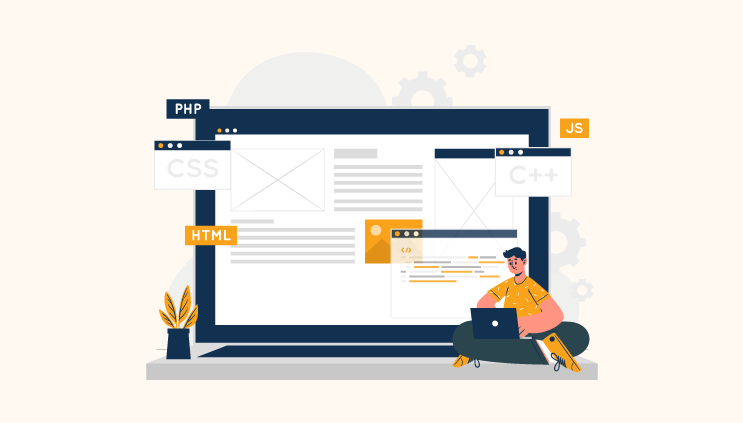 If you define low code programming solution that considerably decreases the amount of work necessary to produce code, you might argue that the first high-level programming languages, such as Fortran and COBOL, were low-code platforms. Of course, most programmers nowadays would not consider languages like Fortran and COBOL to be low-code, as you need to write a lot of code to program in these languages. However, when these languages first arrived in the 1950s, they seemed to developers as low-code solutions in comparison to what had come before. Apple's debut of HyperCard in 1987 was the next significant step forward in low code programming . HyperCard was a development platform and framework that enabled programmers to create complicated programs without having to write any code. They allowed the use of graphical menus to design interfaces and functionality. HyperCard also offered a script for developers who want code-level control, albeit it was not required. Although HyperCard was popular at the time, Apple halted its development in 1998. The platform is rarely remembered by today's developers. Due to this lapse in memory, development platform manufacturers now have a chance to resuscitate the low-code and no-code premise. In many ways, today's low-code and no-code systems are similar to antecedents such as HyperCard. Marketers are seeking to persuade developers that they have something unique to offer by simply renaming them. Today, the LCNC movement has evolved to spread across many sectors. Here are a few of them:
Education
Low code power apps may be used to construct programs that assess learning outcomes, particularly in varied educational contexts, such as variable class sizes or online vs. in-person classrooms. It may also be used to connect digital platforms like enrollment and learning management. Finally, it can be used to build apps and web pages for specialized purposes, such as contact tracing. These applications are especially useful in today's world, where most teaching is shifting to the online platform.
Finance
Financial institutions may leverage low code application builder to create customer-facing applications that interface with back-end systems and function across various platforms. These applications can perform a range of purposes, such as allowing clients to check their account balances. Having such a platform is quite beneficial in a world where people prefer to complete most takes on their phones.
Healthcare
Healthcare providers, like financial institutions, may employ low code no code app development to design applications that interact with back-end systems and provide patients access to their own information or allow them to input information, such as symptoms. Furthermore, HIPAA compliance may be achieved by modifying the building components of LCNC systems. This one again caters to patients' need to access all information at their fingertips.
Retail
In addition to the customer-facing applications listed above, merchants may build low code apps to construct systems to execute operational activities such as inventory management and order processing.
What Can Low-Code Do For You?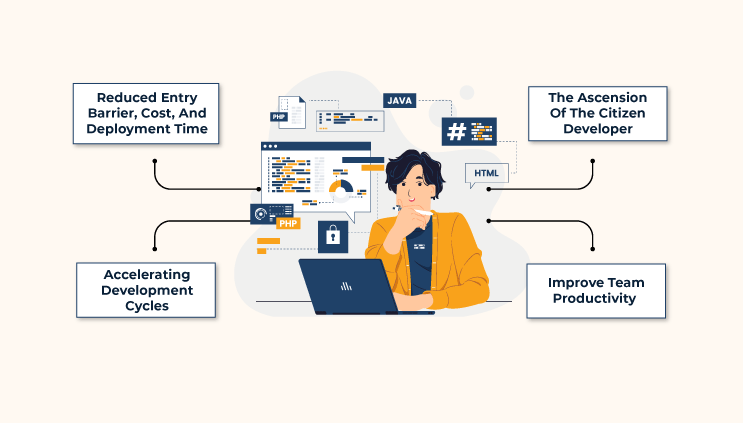 Reduced Entry Barrier, Cost, And Deployment Time
Low-code development lowers the entry barrier, costs, and time to deploy new apps. Expert coders are no longer necessary for the entire process of development. Instead, specialists in an area with a low degree of coding expertise can be used. For example, instead of a programmer with no medical knowledge, physicians and nurses may assist in writing and implementing a process, addressing the problem more thoroughly.
Accelerating Development Cycles
Low-code app development lowers the barrier to entry for new ideas as it shortens development cycles. Products that work flawlessly and have aesthetically attractive designs may be built in minutes rather than weeks. That's a game-changer for all industries.
The Ascension Of The Citizen Developer
Most IT teams simply cannot keep up with today's continual demand for software and apps. Citizen developers are nonprofessionals who create commercial apps using current technologies approved by corporate IT. Citizen developers may swiftly construct much-needed apps with less code and an easier development process. This modular strategy reduces development time, resulting in a speedier time-to-value.
Improve Team Productivity
Low-code development has bridged the gap between IT and business teams, allowing both to tackle real-world problems that affect the firm. Without the need for developers, business teams may construct their own apps. By removing difficult code, more team members, regardless of ability level, have access, which boosts productivity.
Summing It Up
Low code no code app development can be utilized in the next years to produce new apps for cooperating and arranging data collecting in customized ways that are beneficial for distinct corporate and team needs. Furthermore, previously constituted primarily of IT specialists, development teams may begin to include non-IT workers as well, working together to address business challenges. These developments may almost certainly result in significant benefits for businesses, particularly smaller ones that cannot always afford to engage developers to bring their dreams to reality. As the operations/IT gap narrows, firms may be better and more swiftly able to execute new strategies without the IT constraints or delays that have previously stymied growth.
Hence, choosing a low code application platform like 500apps is quite beneficial. This platform allows you to design, create, and publish apps more quickly using their simple, user-friendly interface. Furthermore, you can create ate on the Cloud Create and save your applications on the cloud for faster and more comprehensive access.
AppUp allows several individuals to work on the app at the same time to speed up app development from concept to launch. You can also repurpose components of your original project to achieve the same look and feel across several apps.
Visit the 500apps website and avail these exciting features to help you produce applications easily, thus enabling you to compete with other firms in the market.
Know Why AppUp is the Best App Builder?
#1
Functional and Scalable App
#2
Intuitive Drag-and-Drop Editor
#3
Less Coding Knowledge Approach
#4
Cross-Device Functionality
#5
Professional App Development
#6
User-Friendly Interface
#7
Availability of Visual Tools
#9
Unbelievable pricing - the lowest you will ever find
#10
Everything your business needs - 50 apps, 24/5 support and 99.95% uptime
Join the SaaS Revolution
All-in-One Suite of 50 apps

Unbelievable pricing - ₹999/user

24/5 Chat, Phone and Email Support