Increase Productivity with Low Code App Builder
Low code refers to a unique approach to software development in which you require little or zero coding skills to build and design applications. Low-code application platforms provide an environment to create an application using a graphical user interface. Businesses get empowered to build custom solutions with functionalities to meet the requirement of business models. Low-code platforms provide features like visual builders, customized templates, readymade snippets, etc., to speed up the development process and extend innovations among all categories of people.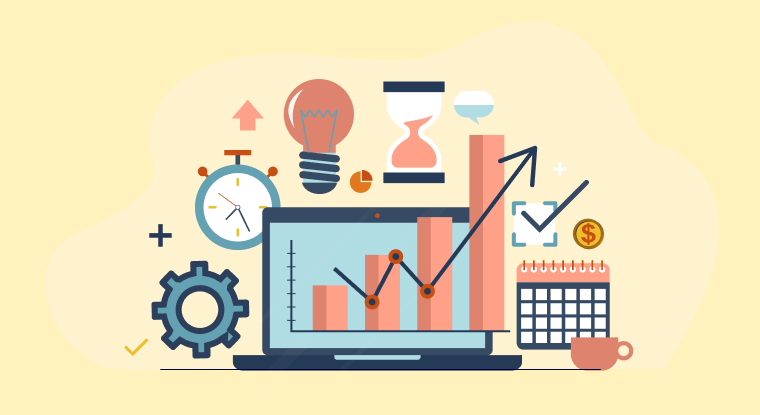 The best part about low-code app development is that it optimizes development processes to accelerate delivery rates. The app allows you to automate and abstract the application cycle steps to streamline solution deployment across platforms. The low-code apps break down traditional application development processes and help organizations develop solutions to meet business requirements. Low-code development platforms offer an environment to create software applications using configuration and graphical user interfaces without conventional hand-coded programming. The frameworks allow IT users to incorporate building blocks with apps and workflows and create interfaces and applications easily.
How to Increase Productivity with Low Code in Less Time?
Low-code application development software uses unique features like drag-and-drop interfaces, prebuilt blocks or code snippets, ready-to-use templates, etc., that help prevent the intense coding required for building applications. The process shortens the development time to create an application and allows the IT teams to focus more on efficiency within a short period. If you create applications using a low code application, you can get a faster developmental turnaround and build a product that fits its purpose.
The prebuilt templates in low-code platforms make it easy for users to get started and help them customize the apps based on business needs. For instance, using low-code apps, users can create an efficient application within days with no involvement of IT teams, and once the app gets ready, they can take care of timely maintenance updates without worrying about the deadline. Low-code apps are a quick alternative to conventional software development processes and any technical or non-professional developer can use them to build applications. The app platforms allow users to meet market demands for growth, facilitate digital transformation, and simplify app development processes.
Low Code App Builder Platforms Dismantle Specialized Skill Teams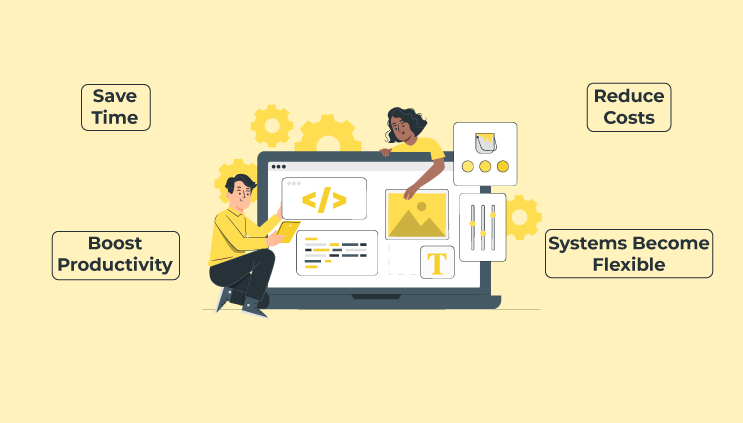 Business organizations have learned to support users and develop new applications rapidly to help the workforce stay efficient, productive, and collaborative. Low-code development is one of the best ways in which organizations can support their employees. The platforms simplify application development processes with visual guidance and drag-and-drop functionalities instead of heavy programming. The process means that anyone within an organization can build and design apps and offload IT tasks regardless of their technical abilities or expertise. So, you can build your app without formal training in programming or knowledge of hand coding. Low-code app platforms do not require manual coding and free developers' schedules so that the teams can focus on making the applications efficient and reliable within short periods. We will discuss how app builder platforms dismantle specialized skill teams below. They Help Save Time The low code app builder enables anyone within an organization to develop apps without seeking help from development teams to build them.
They Help Boost Productivity Low-code platforms give sufficient time to teams to focus on increasing an app's enhancement by modifying its features without hand-coding requirements.
They Help Reduce Costs The low-code platforms allow organizations to use existing staff members or citizen developers for building and designing apps without hiring new developers with technical expertise. The process enables professional developers to create apps within a short period and cut costs.
They Help Systems Become Flexible Low-code platforms make systems flexible as the teams can modify apps easily by eliminating the need to write codes for every process.
How Do They Help in Fast Development and Even Faster Upkeep?
Low-code application development software provides a graphical user interface for programming and helps develop codes at a faster rate. The process also helps reduce traditional programming efforts like writing codes, learning hand-coding, or taking help from specialized IT experts for application development. So, the low-code tools help in faster code development by minimizing coding efforts. The best part about low code application development is that they help non-programmers contribute to app development. The apps also help developers build applications faster at a lower cost. Writing, building, and designing applications from scratch is a time-consuming process that requires development skills specialized to the target platform. However, the low-code app development platforms and tools de-skill the speed up the development process despite having learning requirements. Low-code development platforms offer forms, processes, modules, data models, workflows, integrations, drag-and-drop designers, and programming languages to use within a product. The low-code apps also have alternative design paradigms like templates, generators, and simple design languages that help speed up the application development process. This is how we can say that low-code applications help in faster development and faster upkeep.
How Can You Integrate with Almost Everything?
Low-code app platforms offer cross-platform deployment across cloud, mobile, web, and desktop. The platforms get integrated with backend systems and facilitate data integration between backend databases and user devices. Moreover, the platforms can also get configured in cloud user deployments with the ability to access apps anywhere. IT users use low-code development frameworks to integrate blocks into apps and workflows.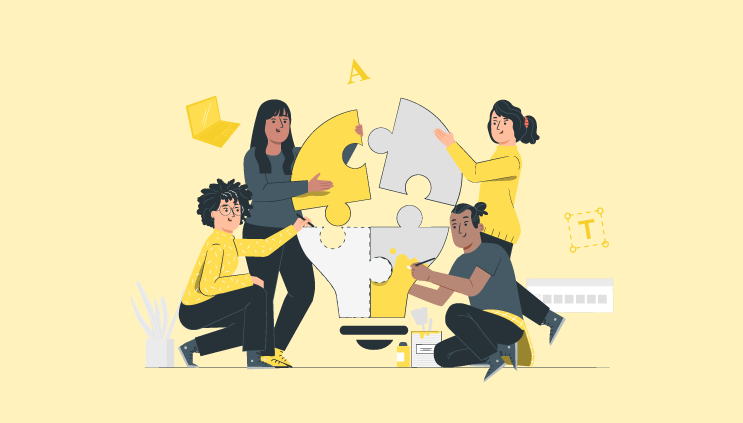 Summing It Up
Low-code application development software combines drag-and-drop interfaces with pre-written code snippets to allow non-programmers to create apps with little or zero programming language. Business users and development teams can build more applications in less time using a low-code app builder platform instead of traditional coding. The applications enable a visual development environment and get configured and drawn to speed up development and maintenance processes. Most low-code platforms get equipped with integration options and deployment tools for better app development processes. If you are looking for an efficient low-code app builder to build applications, AppUp is your answer. The app has drag-and-drop capabilities that allow you to customize apps with a few clicks. The app also allows integration with other applications and services easily. Visit the 5ooapps website today for more details.
Know Why AppUp is the Best App Builder?
#1
Functional and Scalable App
#2
Intuitive Drag-and-Drop Editor
#3
Less Coding Knowledge Approach
#4
Cross-Device Functionality
#5
Professional App Development
#6
User-Friendly Interface
#7
Availability of Visual Tools
#9
Unbelievable pricing - the lowest you will ever find
#10
Everything your business needs - 50 apps, 24/5 support and 99.95% uptime
Join the SaaS Revolution
All-in-One Suite of 50 apps

Unbelievable pricing - ₹999/user

24/5 Chat, Phone and Email Support