Low-Code Platforms Benefits for Application Development
In the developing world of technology, low-code app development has thrived throughout the years of history, allowing business users to build applications at their own pace with or without much application knowledge.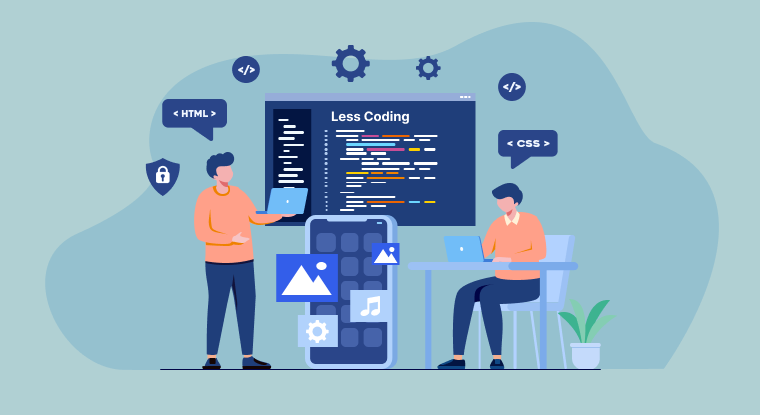 The low-code no-code app development enables you to make visual edits and reuse the drag-and-drop features for rapid app development using the low code app developer. It speeds up the process of development, which does not require expertise in scripts, research, or traditional coding.
The low-code approach follows the industry-standard requirements to ensure multiple businesses with higher availability, scalability, and efficiency. Without compromising on security levels, low-code platforms provide audit logs, user access control, drag-and-drop features, and encryption of unnecessary traffic to prevent business exploitation. As this platform quickly adapts to customer needs, it is highly preferred by businesses to enhance the real-time customer experience.
Why Low-Code Platforms Are the Best Choices for Businesses?
From budding business owners with no technical expertise to IT experts, a low-code platform to develop applications using visual tools without any complexity. It allows businesses to modify the applications according to their wish and make them stand out in the market when competing with other businesses. Low-code application development provides you with a GUI-rich development program. It borrows the traditional needs for visual programming and coding to simplify the process for you. The main reasons why a low-code platform helps enhance the business are: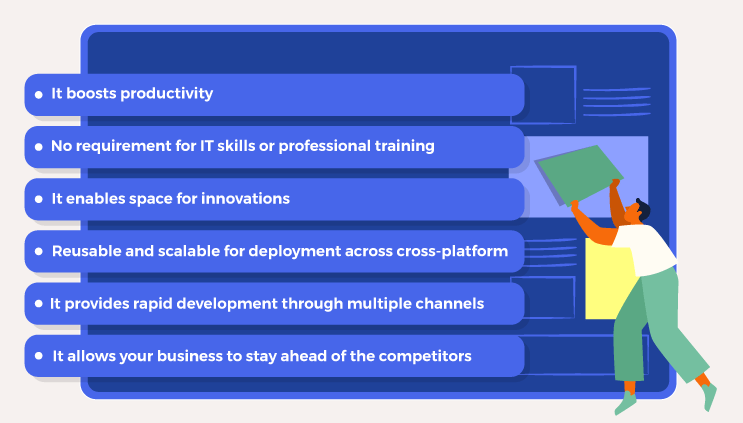 It boosts productivity

No requirement for IT skills or professional training

It enables space for innovations

Reusable and scalable for deployment across cross-platform

It provides rapid development through multiple channels

It allows your business to stay ahead of the competitors
How Low-Code Platforms Save Time and Energy?
In today's world of rapid digitalization, businesses are seeking to enhance and speed up their application development process. No business owner likes to stay behind their competitors in the market. For this reason, everyone nowadays prefers Low-code platforms to opt for a time-saving solution that eliminates the need for additional effort to design and update apps.
Low-code applications allow business users to speed up the process of application development with its extended features. It enables the creation of robust applications with the help of GUI, drag-and-drop features, and visual templates. The developers can easily create and customize an application according to their requirements without any hassle of coding, programming, or troubleshooting. With a low-code platform, you can swiftly build customer-facing applications and legacy modernization apps without affecting the business flow. Most companies have discovered that traditional coding methods work well but consume lots of time and IT expertise. So, they believe low-code methods to be the gateway to enhancing business productivity and saving considerable time.
Business owners rely on a trusted service provider to build low-code power apps and deploy them quicker than any traditional methods. The low-code approach is reliable and reusable. One such application is AppUp by 500apps. It is a low-code platform that helps you quickly launch the application according to your business needs. Unlike the traditional ways, AppUp allows small to big-sized businesses to customize the application using the simple drag-and-drop feature. You need not worry about quality because AppUp offers enriched quality when building a secured application in a short period.
What Are Low Code Platform Benefits for App Developments?
Business users benefit from the low-code platform because application development becomes quicker and easier. It allows businesses to launch the application in the market faster and offers advanced features to simplify and streamline the app designing process. The key benefits of using a low-code platform are as follows:
It allows for an agile application development process

It is a cost-effective solution

It improves business productivity

It enhances the user experience

It complies with all regulatory requirements

It is flexible enough to accommodate the latest innovations and changes

It eliminates the IT gap

It offers deployment across mobile, web, cloud, and desktop

It is reusable for future
The Huge Impact of Desktop and Web Apps on Businesses
In today's vastly developed generation, digital transformation has played a major part in businesses. In terms of performance and efficiency, desktop and web applications play the top role. Using web applications allows businesses of varying sizes to achieve their target conveniently. Several organizations have chosen to rely on low-code methods in web and desktop applications to meet application development demands faster.
Listed below are some of the main aspects of web and desktop apps that signify their huge impact on businesses:
These apps provide businesses with a competitive edge in the market.

Desktop apps are standalone and offer the best network connectivity.

Web applications improve efficiency.

They enable businesses to enhance their customer support service rapidly.

They secure the business users' privacy with a high level of security.

They are accessible 24/7.

These applications are easy to install and maintain.

Customized web apps provide flexibility and scalability.
How to Use a Low-Code Platform to Drive Growth and Scale Your Business?
You should try AppUp to make the best experience out of the low-code platform. With AppUp, you get a secured application that can be deployed to multiple platforms like the web, cloud, mobile, and desktop. Given below is a list of ways in which you can use a low-code platform to drive growth and scale your business.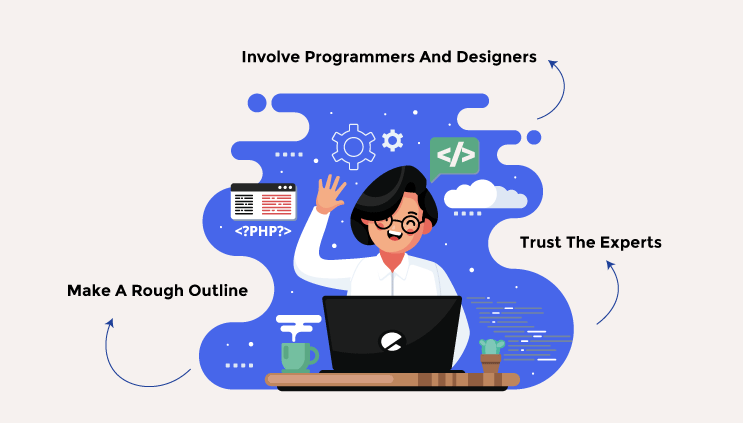 Make a Rough Outline Sketch out all the business requirements for the application development. Plan the tools that can enhance the business growth and scale it up. Include different team members to offer you innovative opinions and create a unique strategy.
Involve Programmers and Designers If you have sufficient resources, include them in the development process. Plan a unique design for your application development using low-code power apps. Ensure to try different designs and finally come to a conclusion.
Trust the Experts Once you have planned a strategy or you feel like the team lacks IT experience, stop worrying and trust a reliable low-code app developer. 500apps offers a great low-code platform to help you customize the application with a few clicks. Using the AppUp application, you get a smooth integration consisting of wide services.
Summing It Up
Relying on a low-code approach enhances every business organization without causing complexity. When you develop your application using a low-code platform, your organization becomes well-equipped and easily adaptable. You may not require professional expertise in the IT industry or learn programming and coding to develop an application. Low code mitigates all traditional ideas by replacing its advanced features.
Every business owner highly prioritizes a fix that boosts business productivity while keeping expenditures at bay. So, a low-code platform should be your go-to solution to develop and upgrade applications at a faster pace using minimal amounts of resources. As mentioned earlier, AppUp by 500apps is one of the best low-code platforms in the market. To learn more about the intuitive features offered by AppUp, visit the 500apps website today!
Know Why AppUp is the Best App Builder?
#1
Functional and Scalable App
#2
Intuitive Drag-and-Drop Editor
#3
Less Coding Knowledge Approach
#4
Cross-Device Functionality
#5
Professional App Development
#6
User-Friendly Interface
#7
Availability of Visual Tools
#9
Unbelievable pricing - the lowest you will ever find
#10
Everything your business needs - 50 apps, 24/5 support and 99.95% uptime
Join the SaaS Revolution
All-in-One Suite of 50 apps

Unbelievable pricing - ₹999/user

24/5 Chat, Phone and Email Support