Low Code Application Development for Enterprises
Low-code application development tool has gained traction in the modern age as enterprises of all sizes strive to achieve more. Thus, increasingly, businesses are investigating low-code development and embracing low-code platforms to expedite their application development process with minimal coding skills.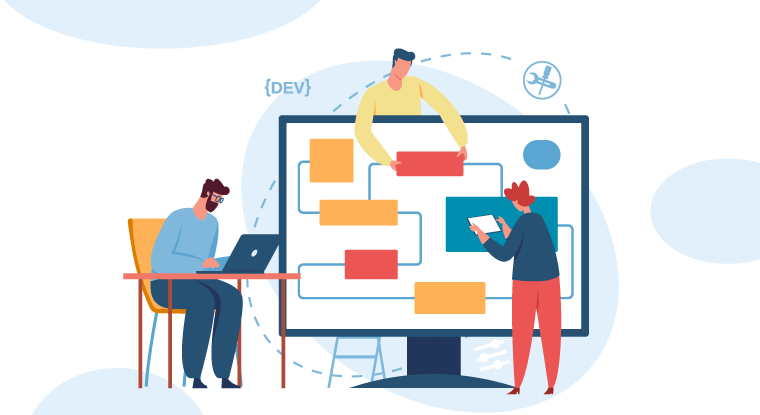 Low code application development methodology allows a company to deliver apps faster and with less coding. It streamlines the app creation process by letting users abandon manual coding in favor of block-based programming. The technique employs visual modeling in a graphical interface to construct and configure applications, allowing developers to avoid time-consuming infrastructure activities and pattern re-implementation.
Why Low-Code for Enterprises?
Companies are shifting to low code app builder platforms because they provide significant advantages over traditional development tools. Let us look at some of the advantages that low-code platforms provide.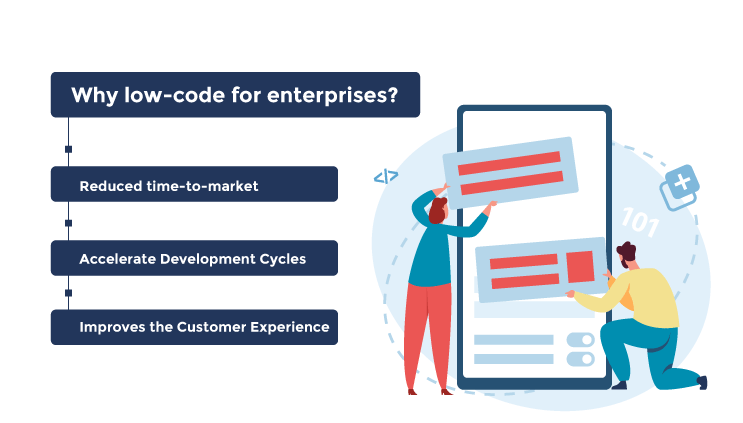 Reduced Time-To-Market
Time to market refers to the amount of time it takes to get from the initial concept to the result, which might be a website or an app. The significant advantage of low-code development is its potential to expedite application development. Enterprise-grade apps may be produced in days rather than months using low-code platforms. Low code application platforms include pre-built UI templates, drag-and-drop functionality, and data models that dramatically reduce the time required to construct an application.
Accelerate Development Cycles
Low code application development helps to accelerate development cycles. Furthermore, non-technical employees with no coding skills may now quickly construct and produce digital goods. The platform's most significant feature is that it permits the production of functional goods and visually attractive designs in a matter of minutes rather than weeks.
Improves the Customer Experience
The low code application platforms automate several tasks essential to the user experience. The agility of app development and availability of comprehensive business process features aid in the creation of far better apps, hence improving client experience.
How Is Low Code Application Development Transforming Enterprises?
Given that most firms are struggling to locate qualified tech people, they must consider innovative techniques to satisfy the needs of digital transformation. Here are some ways low code app development helps transform companies.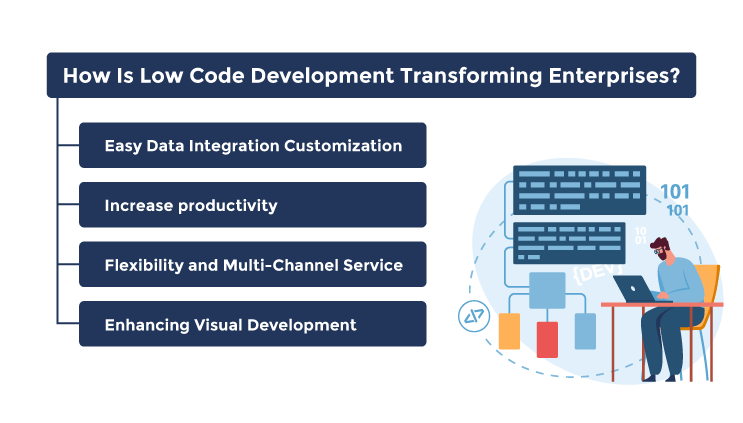 Easy Data Integration Customization
Low code application allows for extremely configurable and scalable tools. They enable the quick development of purpose-specific apps, which may be " stitched " together with existing programs via API connectors or intermediary layers to create end-to-end products. This enables teams to interact with any pre-existing business software, such as ERP, CRM, bespoke apps, and databases, and extract the richness from their core legacy investments, thanks to simple API and database integrations.
Increase Productivity
Intelligent automation skills enable firms to swiftly design and automate workflows by bringing together people, technology, and data to a single location. This automation also enables them to automate and monitor activities with far less staff involvement. This results in increased consistency, agility, and operational performance. Teams in charge of business processes may now manage more than twice as much work as before, freeing up time for other business operations.
Flexibility and Multi-Channel Service
Customers demand faster and more tailored experiences when dealing with any organization in today's digital world. Low code applications also assist businesses in providing better customer service through multi-channel customer experiences and order fulfillment systems. Companies are using low-code platforms to reduce delivery time frames from months to weeks (or even hours), incorporate real-time changes, and create superior products based on user input.
Enhancing Visual Development
The drag-and-drop interface allows developers and non-developers to create front-end apps easily. Component reusability, in addition to a library of pre-built components and pre-configured modules, is another advantage of employing low-code technologies. Using common UI components like menu bars, buttons, form sections, and so on enables a user to make use of pre-built UI components and blend them into a full-fledged application.
How Are Businesses Using Low-Code?
Here are three examples of how businesses use low code application development platforms.
Customer Portal on the Internet
A web-based portal is an excellent digital tool for providing self-service. Customers can accomplish basic operations like researching services, paying bills, obtaining an estimate, etc.
Despite the benefits, many businesses struggle to build a customer portal. Traditional development is time-consuming and resource-intensive, and commercial-off-the-shelf (COTS) solutions aren't distinctive enough to match your specific requirements. Low-code addresses these issues by allowing business and IT developers to cooperate and provide customer portals with consumer-grade UI in a quarter of the time it takes with traditional development.
New Software-As-A-Service Applications
In today's digital-first world, every corporation is in the software industry. So, you can combine years of industry and consumer experience to create a new SaaS application that improves products and can be commercially offered as an add-on or standalone software solution. Thus, they assist the organization in generating new revenue streams and entering new markets. The platform's collaborative structure also ensures that you receive frequent input straight from your end consumers.
App for Budget Request and Approval
Low code application development enables professional and business developers to automate end-to-end capital requests and approval procedures on a single platform by providing speed, flexibility, and collaboration features. Furthermore, the IT department may interface the app with ERP systems such as SAP Finance to compare capital requests to accounting budgets. They can also easily maintain and upgrade the software in low code. Thus, users receive an app that is available on various devices, responds quickly, and has a consumer-grade user interface.
Summing It Up
Nowadays, all types of businesses are looking for new approaches to tackle obstacles and improve company performance. Introducing low-code platforms allows firms to be more daring and exploratory when implementing their ideas.
AppUp by 500apps is one such low code application development platform that you can utilize. Using this tool, you can create dynamic multi-user apps with little coding expertise using the visual drag-and-drop interface. It is a useful tool for firms who wish to build unique apps without investing in a pricey development staff. In addition, you can automate redundant processes, making app creation faster and easier with less reliance on code. Lastly, you can also simplify the integration process and easily connect to popular third-party programs. So without further ado, utilize these exciting features to take your business to new heights today.
Know Why AppUp is the Best App Builder?
#1
Functional and Scalable App
#2
Intuitive Drag-and-Drop Editor
#3
Less Coding Knowledge Approach
#4
Cross-Device Functionality
#5
Professional App Development
#6
User-Friendly Interface
#7
Availability of Visual Tools
#9
Unbelievable pricing - the lowest you will ever find
#10
Everything your business needs - 50 apps, 24/5 support and 99.95% uptime
Join the SaaS Revolution
All-in-One Suite of 50 apps

Unbelievable pricing - ₹999/user

24/5 Chat, Phone and Email Support