Low Code Application Builder Platform: Future of Development
Low Code Application Builder Platform requires little or no coding to build processes and applications. Users can deploy visual interfaces instead of using complex programming languages in a low-code development platform. The best part about low-code app builders is that users with no advanced knowledge of software creation or coding can use them to create business and mobile applications.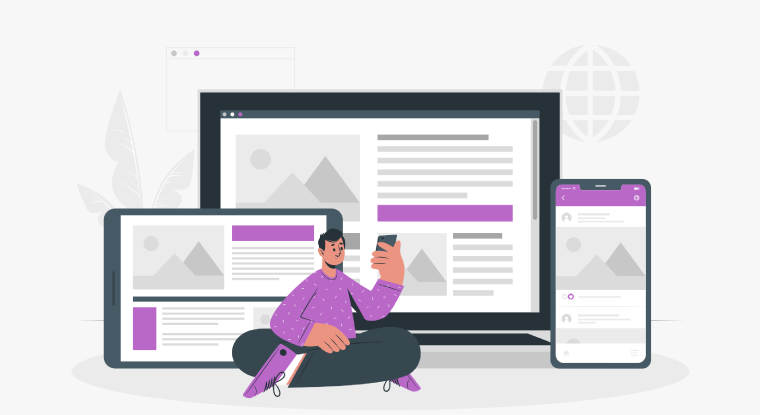 What Is a Low-Code App Builder?
A low code application builder platform allows business users and development teams to build complex applications in less time. The app builder can get configured instead of undergoing the coding process for maintenance and updates.
Low-code app development builders help organizations meet significant business needs like workflow automation, enhanced customer journeys, policy compliance, streamlined operations, etc. The low-code app builder tools help develop codes faster by minimizing the hand-coding efforts. The tools help optimize the app development process to accelerate delivery.
How Does a Low Code Application Builder Platform Work?
A low code application platform allows you to automate every step related to an application cycle to streamline the deployment of relevant solutions. These builders enable the development of applications with cross-platform functionality standards in their design and implement declarative tools through business rules and visual models. They also remove the need for custom-code writing to decrease the difficulty of incorporating additions or changes in the future.
What Are the Benefits of Using a Low Code application Builder platform?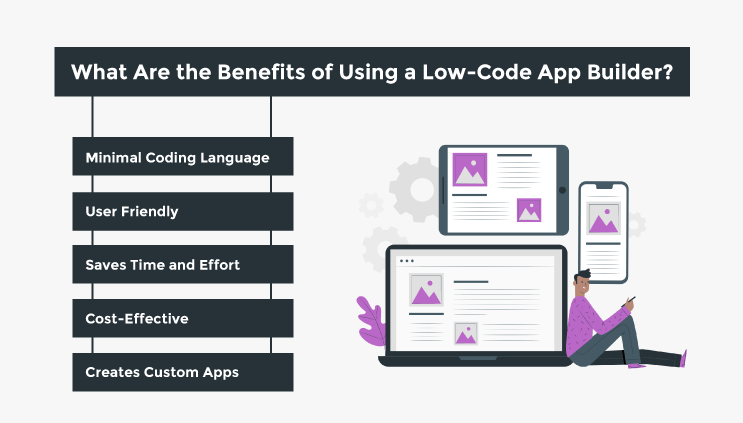 Low-code app development makes it easy for business users to create applications and simplify developmental processes. Here is a breakdown of the benefits of low-code app builders.
Minimal Coding Language
Low-code development reduces the number of times you need to write the custom codes to assemble new processes and build applications, allowing for the flexible development of applications. The technology uses pre-built design templates and code blocks for implementation in the applications and workflow processes. The pre-built features decrease manual efforts to create applications and software products. A low code app builder platform helps make changes in the apps and ensures that they adapt to new requirements easily. The app development process facilitates immediate change in the applications without the need for complex coding.
User Friendly
Low code application Builder platform are user-friendly and involve a graphical user interface (GUI). Low-code replaces the requirement of custom codes by providing easy-to-use UI components, workflow automation, solution blueprints, and integration. Low-code platforms allow organizations to adapt to market changes and customer needs quickly. The platforms provide a simplified environment for business users to develop software products. Custom app creation is easy in low-code technology, and no prior coding knowledge is required for the users to deploy designs.
Saves Time and Effort
Low code application Builder platform, thanks to its minimal coding requirement, involves the creation of robust new applications that can get deployed quickly with less time and effort compared to traditional application development processes. Low-code app builders can save multiple development hours for business organizations. Studies suggest that low-code technology cuts the development times by 50% to 90% and reduces IT expenditures by around 20%. The technology includes visual building blocks like custom logic, integration, and user interfaces so that the developers can reuse them by dragging and dropping development.
Cost-Effective
Low code application builder platform enable high-cost savings as they avoid expensive recruitments for app development processes. The app builders also help shorten the development time through a rapid assembly of pre-made templates and components. A multi-experience low-code platform streamlines the app development process efficiently and helps lower the total cost of ownership (TCO), including other expenditures within an enterprise. Low-code technology helps lower the cost of modernizing high-maintenance apps through seamless integration with pre-existing applications, legacy systems, and backend data that help accelerate the Time to Market (TTM).
Creates Custom Apps
Low-code application platforms give technical and non-technical users the ability to build apps they need to perform their tasks efficiently by allowing them to add various templates and components to the apps and customize them at their convenience. Business users can create their own mobile and web applications to manage databases or automate workflows. Low-code builders define all attributes like an app's characteristics, risks, categories, sub-categories, timeout sessions, etc., to create custom applications according to the client's requirements. This allows business users to build enterprise-grade apps at lightning speed with the low-code app development platforms.
What Are the Features of a Low-Code App Builder?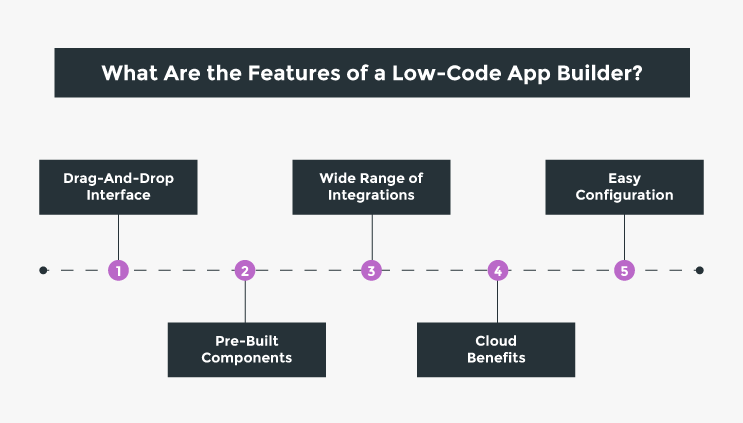 A low-code app builder reduces the time required to deploy, build, and change powerful, cutting-edge enterprise apps. The best low-code app development processes include superior technology to accelerate flexible and user-friendly application creation. Here are the features of a low code app builder.
Drag-And-Drop Interface
Users find it tough to type long strands of code because it is time-consuming. Low-code app builders allow drag and drop interface so that the developers can create applications visually within a short period.
Pre-Built Components
Low-code development platforms help professional developers and non-technical users to build applications quickly by using the pre-built templates. Rapid component visualization in the system allows easy and flexible development of apps in a short period.
Wide Range of Integrations
Low-code app builders are open and extensible platforms. Most app builders have application programming interfaces (APIs) and other ways to extend and integrate with various significant platforms.
Cloud Benefits
Low-code platforms provide reusable actions and visual editors that users can use during the process of rapid development of applications. The app builders enable cloud computing without active management by users with functions accessible across multiple platforms.
Easy Configuration
Low-code app builders use a visual drag-drop interface for developing applications. The app builder offer pre-built query builders, data connectors, UI controls, etc., for an easy configuration of the app development process.
Summing It Up
Low-code app development is a visual approach that optimizes the development process of applications for faster delivery. The low-code builder apps include multiple templates and pre-built components like UI controls for a flexible developmental process. Users can save time and effort by reducing the need to write custom codes while using a low-code app builder with easy integration and configuration features. Are you looking for a low-code app builder to create and run custom applications in a short period? Try using AppUp for the best user experience for app maintenance and updates. It has a single control point for customizing apps in a few clicks and offers seamless integration across services.
Know Why AppUp is the Best App Builder?
#1
Functional and Scalable App
#2
Intuitive Drag-and-Drop Editor
#3
Less Coding Knowledge Approach
#4
Cross-Device Functionality
#5
Professional App Development
#6
User-Friendly Interface
#7
Availability of Visual Tools
#9
Unbelievable pricing - the lowest you will ever find
#10
Everything your business needs - 50 apps, 24/5 support and 99.95% uptime
Join the SaaS Revolution
All-in-One Suite of 50 apps

Unbelievable pricing - ₹999/user

24/5 Chat, Phone and Email Support