The Best App Builder for All Needs: Top 5 Picks
The best app builder is a mobile application development tool that allows application developers to create seamlessly working applications and launch them on time. It does not particularly require any technical knowledge to develop an application. Anyone can develop an application with ease with the help of this tool. The web app builder also provides you with visual interfaces and drag-and-drop features to easily create a robust application without any development skills.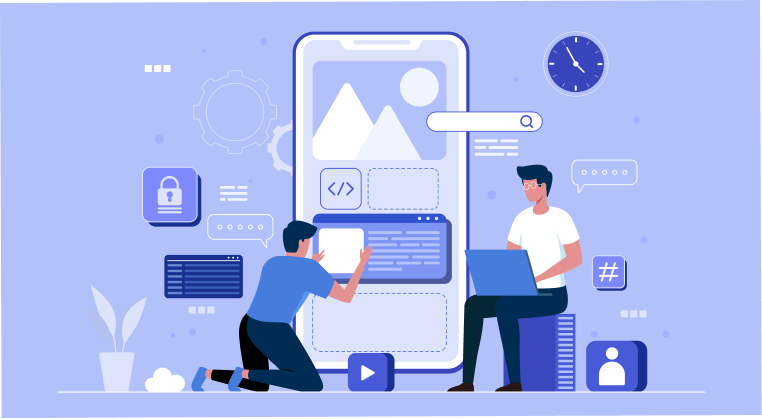 Around 85 percent of shoppers prefer using mobile applications over websites for online shopping. Thus, having a mobile application has become handy and absolutely essential today. So, if you are someone who seeks to create and launch an application without any development or coding skills, you have come to the right place. We will explain to you what to look for in a best app builder and mention our top five picks.
To Look For in a Best App Builder
Do you find yourself in a challenge to pick a no-code web app builder for your application development? Stop worrying because we are here to mention what you should look for when you pick the best app builder. The native app development is complex and a traditional method is not so agile so comes need for top low code platforms. Therefore, you should pick the best no-code web app builder for your organization. It dilutes the complexity of the application development process and reduces additional operation costs. When you choose the best web app builder, keep these things in mind: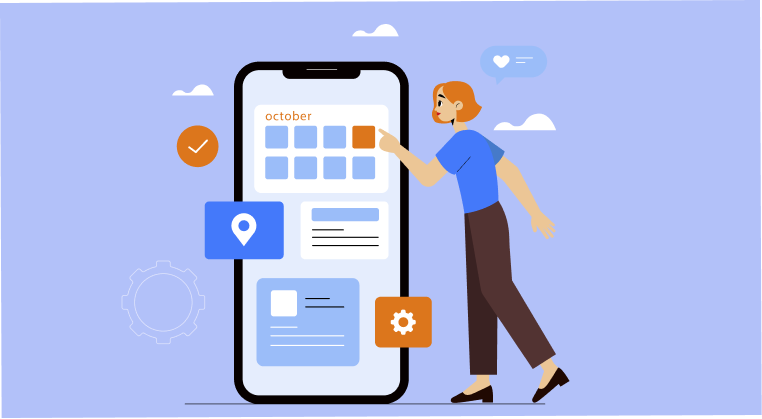 Affordability
Often companies choose not to invest in best app builders as they are not a cost-effective solution. However, you should ensure to pick an affordable and the best app builder to reduce the manual work and additional costs. Do not go for any random best app builder online, as it may not guarantee you the best results. Always choose reliable software that ensures support throughout the development and production phase.
Customizability
Always make sure to look for a no-code web app builder that comes with customizable abilities with some simple drag and drop web app builder. It enables you to create a flexible and scalable application, which can be further customized to higher levels. AppUp by 500apps is one such best app builder that enables you to create and customize your application from anywhere without coding or technical knowledge. This tool enables you to make real-time changes in the application to create a professional app and keep track of the updates.
Import Web Data
Most developers create front-end and back-end for their clients. The back-end system controls everything that the users view in the front-end system. Here, a best app builder eradicates the manual effort and time consumed in designing each screen of the application. It generates the web data and displays it in a simple format, making it easier for the users to control the app content and display. The website changes are immediately reflected on the application.
Integration
One of the significant features is app integration. You should always pick a web app builder that seamlessly integrates with the existing systems. The pre-built connectors make it even more convenient for you to integrate the data from third-party tools into your application using the connectors. AppUp plays a great role in providing these features to enhance your app development process. It enables you to combine different applications using APIs and quickly stream data from external and legacy systems.
Drag-and-Drop Interface
Needless to say, the drag-and-drop feature plays a significant role in app development. When you pick any best app builder, make sure to find the one that offers a drag-and-drop interface. It allows you to bring your ideas and imaginations to reality by creating visual applications. This allows you to get a visual overview of the development and does not require rich technical knowledge. Using the drag-and-drop interface, you can lower the number of errors that occur due to a lack of coding knowledge.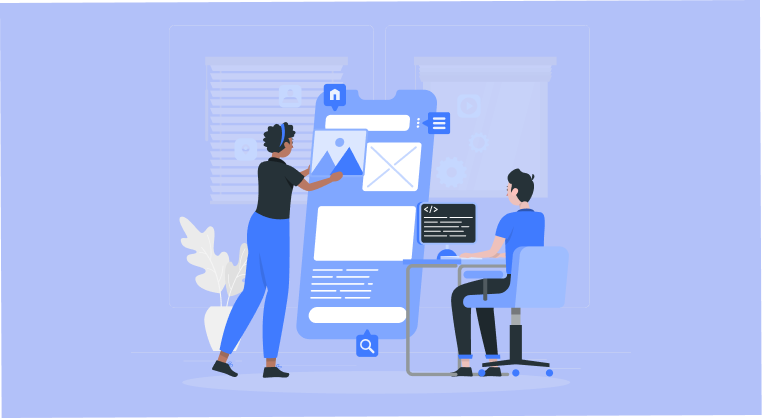 Top Picks For The Best 5 Best App Builders
Below are the best 5 app builders:
AppUp
AppUp is developed and launched by 500apps. This software enables you to build the exact application you imagine with little to no coding knowledge. It allows you to create and store the application in the cloud. AppUp also offers plugins for seamless data integration. Using this best app builder, you can add multiple users to work simultaneously to complete the development process even faster. You can build interactive apps with this low-code app builder that also offers reusable templates and DIY app building, which is nothing less than a professionally created application.
Price: The basic plan starts at $14.99 per month.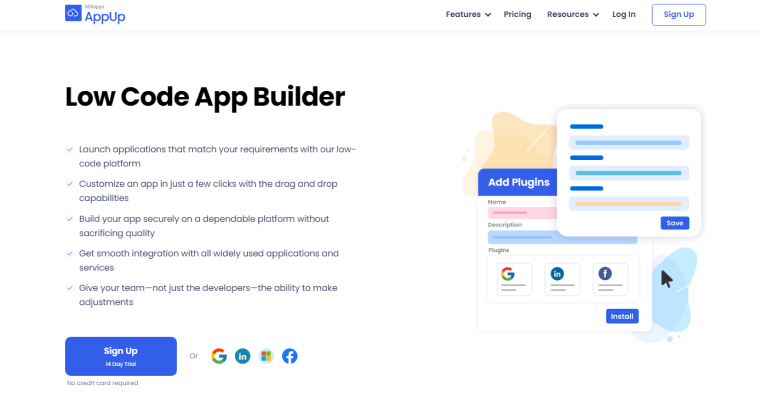 Appy Pie
Appy Pie offers a DIY app development approach with just a 9-step detailed process. Appy Pie has a wide customer base as it takes you through the 3-step process right from selecting a category for your application to building the application to publishing it on the launching date. It requires zero coding knowledge. So, if you are interested in a best app builder that takes you through a few steps and allows you to launch your application in no time, Appy Pie should be up next on your list.
Price: The basic plan starts at $16 per app per month.
AppInstitute
AppInstitute is the best option for small business owners. AppInstitute takes you through a series of steps easily displayed on their platform. Using this tool, you can pick from twenty different templates to choose all the necessary features you need and brand your application with business information, images, color scheme, and social media account information. As soon as you edit your content, making it look simple and manageable, you can publish the application online.
Price: The basic plan starts at $59 per month.
Mobincube
Mobincube offers quality and functionality for application development. Mobincube has built an attractive platform for you to build your apps and launch them without any cost. It is not only limited to HTML apps. It also includes native apps. Some of the prominent features of Mobincube are online store integration, monetization with in-app ads, standard customization, Google Maps, Google Analytics, push notifications, database integration, third-party integration, and remote content updates.
Price: The basic plan is free. However, the small plan starts at $4.99 per month with some advanced features.
Swiftic (formerly Como)
Swiftic caters to both small-sized and large-sized businesses. It offers quick and easy-to-use solutions. Although Swiftic has a budget for custom apps, they strive to help you build fast and professional apps with guaranteed test results. This tool offers a clean and simple layout where you can view your build and tweak the elements wherever necessary. Some of its exclusive features include in-app coupons, a mobile store, push notifications, loyalty and scratch cards, menus, branches, scheduling, customer engagement contests and surveys, and social media integration.
Price: The basic plan starts at $39 per month.
Comparison of the Top App Builders
Each of the best app builders mentioned has its unique specialties. All the apps cater to your business requirements and push you forward to build your apps faster at affordable prices. You only need to pick one of the best software that is affordable, customizable, scalable, offers a drag-and-drop interface, integrates well with third-party tools, provides pre-built templates, and enables multiple teams and users to work simultaneously.
Summing It Up
Investing your money in a best app builder solves all your problems. It ensures that the developers build an engaging application with no coding or technical skills. All you need is the best software out there that not only helps you create an application but enables you to monitor throughout the process and get a visual overview. AppUp is a low-code app builder developed by 500apps. This software reduces compatibility issues and manual intervention. If you are looking for software that comes in a package with the necessary features for your application, AppUp should be your go-to solution. For more information about the features and pricing details, visit the 500apps website today!
Know Why AppUp is the Best App Builder?
#1
Functional and Scalable App
#2
Intuitive Drag-and-Drop Editor
#3
Less Coding Knowledge Approach
#4
Cross-Device Functionality
#5
Professional App Development
#6
User-Friendly Interface
#7
Availability of Visual Tools
#9
Unbelievable pricing - the lowest you will ever find
#10
Everything your business needs - 50 apps, 24/5 support and 99.95% uptime
Join the SaaS Revolution
All-in-One Suite of 50 apps

Unbelievable pricing - ₹999/user

24/5 Chat, Phone and Email Support