AI and Low Code Programming Boost Corporate Productivity
With the rapid rise in digital transformation and improvements in machine learning (ML), more firms are implementing artificial intelligence (AI) into their workflow. In fact, about 50% of the companies use AI in their business processes.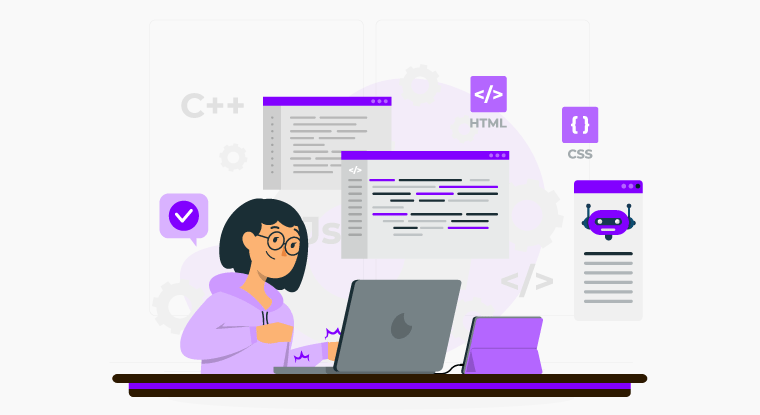 According to a Deloitte study, a significant proportion of respondents believe cognitive technologies are ""critical"" or ""extremely essential"" to both service offerings and internal business operations. These corporations appear to believe that employing AI is critical to their capacity to grow their company and stay ahead of the competition.
As the need for integrative AI grows, the number of platforms offering no-code or low-code programming grows as well. This article will clarify the term ""low-code"" and analyze the benefits of this technology.
What Exactly Is Low Code Programming?
Non-AI specialists may construct AI apps from predefined components using low code app builder platform . In contrast to hard-coded programming methodologies, such platforms are built on an intuitive graphical user interface in application design and visual programming.
Businesses that adopt low-code platforms for AI development benefit from huge cost savings, faster time-to-market for their products, improved product scalability, and a smooth and intuitive user experience.
Components Of Low-Code AI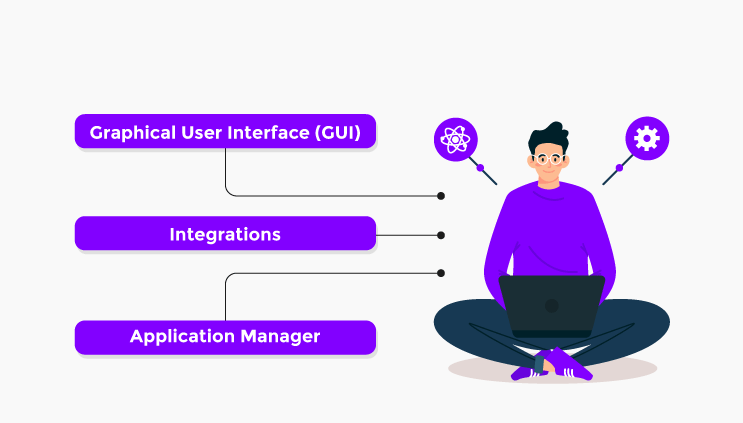 Most low-code AI platforms have the following infrastructure components.
Graphical User Interface (GUI)
An intuitive GUI, intelligible even by non-specialists, with clear graphic features, enables the easy creation of AI systems with no ambiguity about input and output.
Integrations
The developed application must have access to your company's database in order to interact with your business data. APIs are used by low-code AI platform designers to allow the new software to interface with the database safely and effectively.
Application Manager
The process of developing software does not end with the creation of an app using a low-code AI platform. The program must be properly maintained and updated in order to function properly. Furthermore, the platform on which you construct the app frequently provides debugging services to assist you in eliminating problems and improving the app's functioning.
Each And Every Business Needs A Low Code-Based AI Platform
Low-code application development platform allows a much bigger audience of users to participate in designing application functionality by decreasing the programming skills required and making the design process more visual and straightforward. Users may be able to focus on what has to be done rather than how it should be done, with implementation concerns abstracted away. Thus, low-code AI platforms are steadily gaining popularity. However, there are several other benefits of low code applications development .
Simple To Integrate
Using platforms and integrable modules, low-code AI may be customized to a company's specific needs. While low-code AI will never be totally customized, it may frequently be tweaked to fit unique business requirements.
Less Expensive Than Custom AI
Implementing fully customized artificial intelligence systems is expensive. No-code AI might be a viable compromise for organizations that wish to use AI with less stress and without having to recruit an AI team.
Low-code platforms allow users to include only those elements that are important to the organization. Focusing simply on what is necessary, businesses may dramatically reduce development expenses. The platforms also allow for timely updates and other software maintenance tasks to be performed without the requirement for dedicated personnel to be hired, as low code app builder can even be built by individuals without any technical skill.
Increased Market Penetration
Technology may be tough to grasp, particularly if you lack a fundamental understanding. Furthermore, finding and retaining the right technical specialist to construct the required application may take a substantial amount of your time, delaying the product launch. No-code AI may help businesses produce the products they desire in a timely manner and execute their go-to-market plan more quickly than expected.
How An AI Platform With Low Code Makes Organizations More Productive?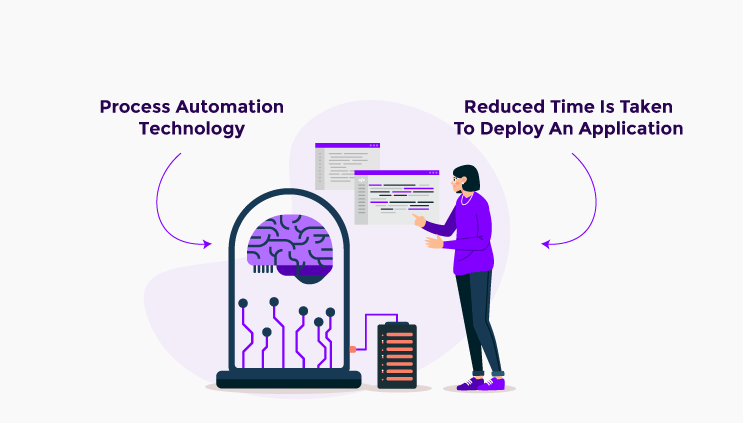 Here are the two reasons why low-code AI platforms help improve productivity. Process Automation Technology
Automation can help you achieve your operational efficiency goals, and this is where low code application builder comes into the picture. Low code AI allows you to automate repetitive and mundane tasks your employees need to complete during app creation, which in turn increases employee productivity. Therefore, they can now focus on tasks that can benefit your company and help increase revenue.
Reduced Time Is Taken To Deploy An Application
With no-code development, the time it takes to deploy new features may be significantly reduced. As users without programming skills can modify current programs by using menu-driven settings, companies do not need to hire developers to build applications. Thus, you don't require developers for many applications, allowing them to improve productivity and focus on more complex and personalized applications.
Drawbacks of Low-code AI
Low-code platforms are extremely popular and useful. However, they may not entirely replace classical machine learning and computer vision. As there is still much to learn about ML, AI, and computer vision, the bespoke AI model-building technique is far from obsolete. Furthermore, low-code AI platforms have limited feature customization, but when designing AI from scratch, the sky's the limit. You are free to construct the architecture, functionality, or pipeline that best matches your project. However, such specialized model construction may be costly and time-consuming. So, the best bet is to employ low-code/no-code platforms to simplify and accelerate the processes.
Summing It Up
Regardless of size or IT budget, AI app builder gives organizations boundless business possibilities. Companies may find even more imaginative ways to use no-code AI to become market leaders.
One such low code applications platform you can use is AppUp by 500apps. This platform allows you to create interactive apps without getting bogged down in programming. You can use their user-friendly interface components, plugins, nodes, and other tools to automate and abstract the development process. Furthermore, setting up the app logic graphically using the platform's drag and drop interface makes app development quite easy.
AppUp's cloud-based platform can be launched directly from your browser and allows you to design, build, and distribute apps more quickly. The platform allows for quicker concept execution and more control while developing apps. You can also reproduce your design to quickly develop comparable apps. All in all, AppUp by 500apps accelerates the development process from idea to release. Visit the website to learn more!
Know Why AppUp is the Best App Builder?
#1
Functional and Scalable App
#2
Intuitive Drag-and-Drop Editor
#3
Less Coding Knowledge Approach
#4
Cross-Device Functionality
#5
Professional App Development
#6
User-Friendly Interface
#7
Availability of Visual Tools
#9
Unbelievable pricing - the lowest you will ever find
#10
Everything your business needs - 50 apps, 24/5 support and 99.95% uptime
Join the SaaS Revolution
All-in-One Suite of 50 apps

Unbelievable pricing - ₹999/user

24/5 Chat, Phone and Email Support