How to Pick the Right Low Code Applications Platform
A low code applications platform is a visual software development environment that allows developers to create applications quickly without writing line-by-line codes. The application platform also allows office administrators, business analysts, small business owners, etc., to build and test applications without prior coding knowledge via the configuration components provided by low-code app development platforms.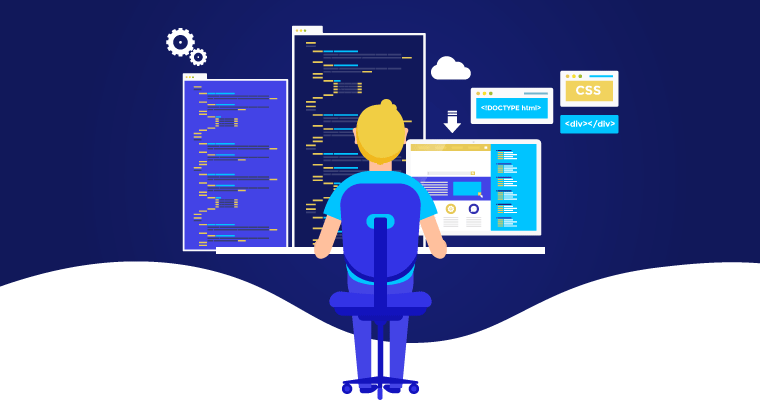 Developers can take help from low code application platforms and access a user-friendly graphical user interface (GUI) to combine components and third-party application program interfaces (APIs) to rearrange and test modules for the apps. Developers can take help from low-code app platforms and access a user-friendly graphical user interface (GUI) to combine components and third-party application program interfaces (APIs) to rearrange and test modules for the apps. Low-code platforms eliminate the need to write custom codes and enable users to select and connect reusable components that represent unique capabilities or steps. Users can link the components to create the desired workflow and build applications like drafting flowcharts rather than jotting down codes for each desired capability or function.
Factors to Consider while Using a Low Code Applications Platform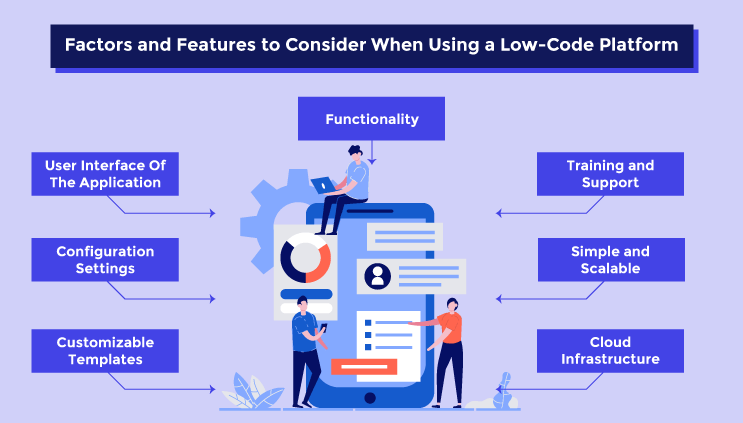 Low-code application platforms have revolutionized how companies develop and design business process applications. Professional developers and non-technical users can execute projects with little or zero prior coding experience. Users do not have to depend on software engineers or skilled developers to build applications or create a workflow. We will discuss the various factors organizations must consider when using a low code applications platform.
User Interface Of The Application
You must ensure that the low-code app platform you use is user-friendly and contains an application interface that enhances customer satisfaction.
An easy tool user interface creates a good impression on the users and enables them to engage with applications. Furthermore, an optimized UI helps convert users into loyal customers by saving their time and effort. This way, a low-code app platform with enhanced UI features enables you to build a large customer base.
Configuration Settings
A low-code application development platform must provide vital configuration tools and settings to enable team members to manage the applications independently. The members must get access to the database and configure permissions and authentications through the platform.
Configuration settings help maintain computer systems, software, and servers in a consistent state. A low-code app platform must include configuration settings to manage complex applications and software systems to ensure faster problem resolutions.
Customizable Templates
An efficient low-code app platform must provide readymade templates to automate various business processes. It is important to make sure that the platform you use offers customizable templates to reduce the manual efforts of finding new ones and the risks involved in creating a system.
Functionality
You must ensure that your chosen platform provides the functionality required for your organization. The platform or management software must include features like electronic signatures, visual builders, drag and drop editors, form designers, templates, DIY app building, chrome extension, etc., to provide essential functionalities.
Training and Support
A low code applications platform must include a comprehensive training program so the employees can learn how to develop applications smoothly on the given platform. A separate training program or a lesson plan can help the developers or first-time users to understand the gist of the processes that involve building and designing applications. The users do not have to take help from skilled technicians or software engineers to learn the app-building process. A good low-code platform must also provide technical support as and when needed.
Simple and Scalable
A low-code app development platform must enable users to solve simple issues and, at the same time, be able to resolve complex scenarios in the future. It is important to make sure that the platform you use allows you to experiment with new products, integrations, features, etc., by integrating with the workforce's skill levels.
Integration of multiple platforms and their processes helps you make better use of data from various sources to build and design applications. So, make sure to use a low-code application development platform that integrates easily with the already existing apps and the workforce.
Cloud Infrastructure
Cloud infrastructure enables faster product deployment and development and improves network performances through automatic upgrades. Cloud also enables automatic scaling so that you can analyze server capacities, virtual machines, internet connectivity, etc., depending on defined situations like utilization levels or traffic. Therefore, you must check whether your app development platform can get deployed in cloud infrastructure. The app development process gets quicker if the platform supports the cloud and is worth taking advantage of for businesses.
Tips to Choose the Right Platform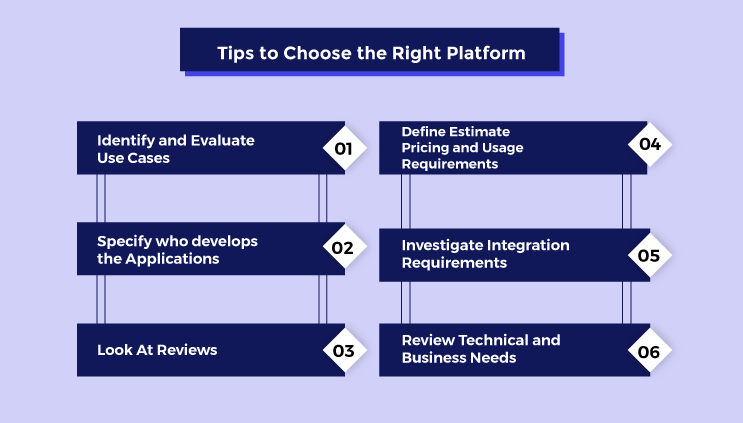 Low-code application platforms enable app development, support, design, and enhancement. However, organizations must see that they select an efficient platform with all necessary functionalities for app development. Here are the tips for choosing the right low-code app development platform.
Identify and Evaluate Use Cases
Low-code options must have different development approaches and capabilities. The development platform must help accelerate application development and support further enhancements. However, you must evaluate the platform against the types of applications used for end-user experiences, workflow capabilities, data requirements, etc. Therefore, when researching the platforms, you should consider multiple app development needs and use cases.
Use cases are significant in software and app development projects because they help transform various manual processes into automated processes. Use cases also brief you on outstanding issues, undefined terms, process exemptions, etc., so that you can work on them to enhance your business and customer experience.
Specify who develops the Applications
A few low-code platforms require coding skills to develop applications. Other platforms assure that app development does not require code while offering visual tools to construct workflows, user interfaces, and integrations. You must identify who will develop, design, and maintain the applications to decide on a platform that best meets the developer's needs.
Look At Reviews
You must refer to customer satisfaction reports or reviews on the platforms that you deem fit for your business process application development. A low-code app platform that provides an efficient end-user experience and wows the developers and technologists with its capabilities will have positive customer reviews on its reports.
Define Estimate Pricing and Usage Requirements
You must understand the end-user development tools of the program before choosing a low-code application development platform. End-user development ensures that individuals can use the required tools when they need them. The process also ensures that the tools meet the needs of the end-users and are easy to use. You can analyze the trials and develop proofs of concept of various platforms and select the one that suits your business requirements and fits within your budget simultaneously.
Investigate Integration Requirements
The applications developed in low-code platforms must integrate with APIs, cloud, data center bases, third-party data sources, and enterprise systems. Therefore, you must check whether the platform's applications can integrate with other existing applications and software of your organization.
Review Technical and Business Needs
You must ensure that a low-code app development platform meets all your business needs while conforming to the processes and tools engineered for software and coding development. Every organization has different technical and business needs. The low-code platform you choose must have the required features to meet your needs and review them to enhance the app and software development processes.
Summing It Up
A low-code application platform makes app development and design easier for business organizations. In fact, developers with little or zero coding abilities can build applications efficiently using low-code platforms. However, organizations must note the specific factors and tips when choosing an efficient platform for their business.
Are you looking for a reliable low-code app builder software to design business process applications? Look no more as AppUp has a low-code application platform to get your app designed and running in no time. The software offers the best end-user experience and has a single control point for all app updates and maintenance systems. Visit the 500apps website today to avail all its exciting features.
Know Why AppUp is the Best App Builder?
#1
Functional and Scalable App
#2
Intuitive Drag-and-Drop Editor
#3
Less Coding Knowledge Approach
#4
Cross-Device Functionality
#5
Professional App Development
#6
User-Friendly Interface
#7
Availability of Visual Tools
#9
Unbelievable pricing - the lowest you will ever find
#10
Everything your business needs - 50 apps, 24/5 support and 99.95% uptime
Join the SaaS Revolution
All-in-One Suite of 50 apps

Unbelievable pricing - ₹999/user

24/5 Chat, Phone and Email Support