How Does Low Code Applications Development Help?
Over the past few years, low code applications development has demonstrated their ability to meet both the increased business demand for tech innovation and the problems experienced by developers. The creation of low-code software helps speed up the delivery of the entire development process. Instead of writing software code the conventional way, low-code application development software uses visual, declarative methodologies that enable the model-based creation of software. With low-code, you can simplify the deployment of several solutions by automating each stage of the application lifecycle. Users can simply see their products before releasing them to the public, saving them from having to deal with writing hundreds of lines of code.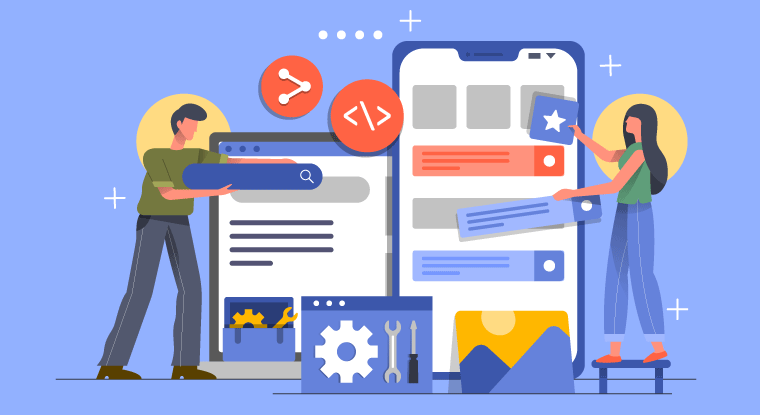 As opposed to using standard software development languages and tools, low code applications builder platform is known to assist practitioners like application developers, software architects, data scientists, and system administrators in improving their efficiency and quality using tools and higher-level abstractions. A drag-and-drop interface is typically used to create a data pipeline, mobile user interface, workflow, integration, or data visualization.
What is Unique About Low Code Applications Development?
Without having to conduct further research or create new scripts and test them, low-code development platforms allow IT specialists to swiftly put together new processes and develop apps. The advantages of a low-code platform are endless, ranging from increased productivity to simpler maintenance. These features are intended to increase workplace productivity for corporate users without compromising these platforms' usability.
Your company can benefit from low-code in the following ways:
-Allowing virtually anybody in your organization to create applications can save time compared to using development teams.
-These apps increase productivity by releasing your developers' schedules so they can concentrate on creating products that need a lot of code and, as a consequence, help teams operate more productively.
-You can save money by allowing your organization to use current staff as citizen developers rather than hiring new engineers. This will enable your skilled developers to produce more apps in less time.
-To be more adaptable, choose low code application that allow you to modify apps quickly and simply without having to spend a lot of time writing code.
The Power of Low-Code Automation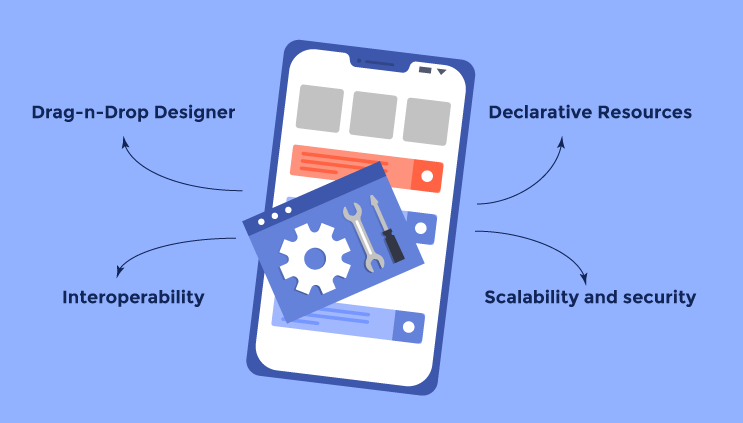 A low code application platform significantly cuts the time needed to design, deploy, and alter cutting-edge, potent corporate apps from conception to deployment. The top platforms for low-code development provide tools that can speed your route to success by providing more powerful features.
Drag-n-Drop Designer
It takes a long time and is quite tough to type out long lines of code. Since low-code enables a straightforward drag-and-drop interface, developers can build applications graphically, reducing the time it takes for them to deploy.
Interoperability
With low-code apps, you can create the application once and deploy it everywhere. A cross-platform feature must be a norm in apps due to the growth of handheld devices like smartphones and tablets. Low-code development enables everything to take place automatically behind the scenes with no additional work, coding, or resources.
Declarative Resources
Declarative tools are implemented in low-code automation platforms using things like visual models and business rules. Development times are sped up, and future updates or additions become less difficult by eliminating the requirement for writing specialized coding for them.
Scalability and security
Low code application development has been criticized, especially in terms of scalability and security. Today's low-code platforms are enterprise-grade, as opposed to their early concentration on smaller, departmental, and less crucial features. The ideal platform has all the security certifications in place and has a track record of success with significant projects.
What improvements come from adopting low-code applications?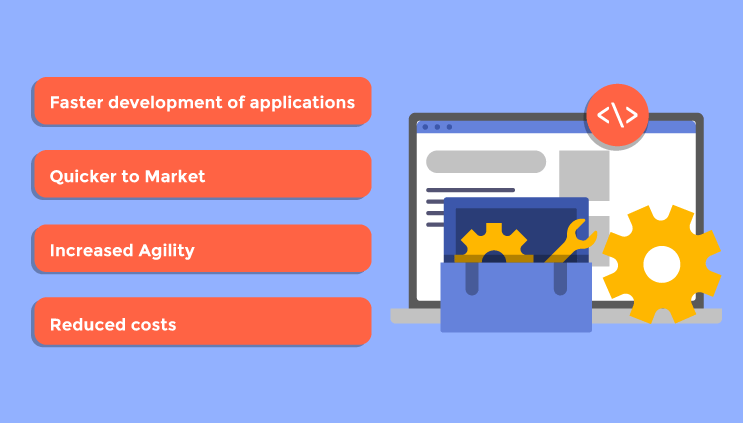 Faster development of applications
Businesses are seeking strategies to quickly produce apps that satisfy the demands of both internal and external customers. The standard application development process will always be around, but it is not the answer to the enterprise's ever-expanding software needs. Due to the fact that business people can create applications without requiring this type of IT assistance, low code app quicken the creation of apps. It's been discovered that using a low-code platform may speed up software development by up to 10 times.
Quicker to Market
Application development time is significantly slashed because of low-code platforms. Application design is sped up by low code applications' web-based drag-and-drop capabilities and reusable application components. This guarantees that businesses can promote their apps more easily and integrate updates quickly.
Increased Agility
Businesses must have the potential to adapt to shifting market conditions, whether they are favorable or unfavorable. They must adapt swiftly to be profitable in light of emerging technology, stricter regulations, and constantly changing client expectations. A low-code platform makes it quick and simple to deliver updates and modifications to apps, empowering organizations to counter challenges and seize market opportunities. The applications are created using a process model, and users can alter the process and see the changes reflected in the app as a result.
Reduced costs
The profitability of a business is directly affected by cost-cutting. While rising income sometimes means incurring extra expenses and taking time to enjoy the advantages, cutting costs may have a substantial influence on profitability from the start.
Using a low-code platform helps companies to cut expenses in a number of ways, including:
-Since non-programmers can create apps, there is no longer a need for businesses to engage pricey software engineers.
-Businesses can minimize time to market by using shorter development cycles, which leads to faster ROI.
-Low-code software often incurs less technical debt and has reduced maintenance expenses.
Summing It Up
Low-code systems are becoming more commonplace. Many low-code tools provide the majority of these functionalities, but not all of them. It is challenging to find low-code systems that can do every task flawlessly. But we're also here to assist because of it.
AppUp is a low-code application development platform that offers all the functionality you need. AppUp is used by many of the best businesses in the world to enhance customer service and make managing and complying with global risk easier. Sign up for a trial and start developing apps today!
Know Why AppUp is the Best App Builder?
#1
Functional and Scalable App
#2
Intuitive Drag-and-Drop Editor
#3
Less Coding Knowledge Approach
#4
Cross-Device Functionality
#5
Professional App Development
#6
User-Friendly Interface
#7
Availability of Visual Tools
#9
Unbelievable pricing - the lowest you will ever find
#10
Everything your business needs - 50 apps, 24/5 support and 99.95% uptime
Join the SaaS Revolution
All-in-One Suite of 50 apps

Unbelievable pricing - ₹999/user

24/5 Chat, Phone and Email Support