How to Use Drag and Drop App Builder More Efficiently
Drag and Drop App Builder have become the new necessity for businesses to serve existing users and efficiently gain new ones. However, the challenge here is to build an efficient application that caters to the user's requirements. Most organizations use app development experience, coding language, and innovative ideas to develop applications. However, you can create an app without coding knowledge by using drag and drop application builder .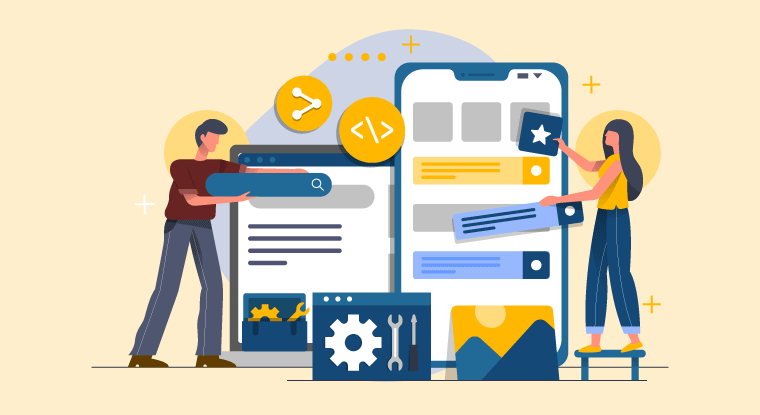 What is Drag and Drop App Builder?
A drag-and-drop app builder allows you to develop and launch applications without prior coding language. The online developmental tool enables you to bypass the app development process in a short time. The best part about the app builder is that it is cheaper than traditional app development processes. The traditional app development process includes UI designs, wireframes, planning, testing, coding, and app finalizing systems. However, the app builder enables you to develop the app using pre-built features like ready-to-use objects, customized templates, and drag-and-drop interfaces. The drag-and-drop apps are a significant part of low code app builder. The platforms offer individuals and business owners the chance to create apps within a short period. Most app builders use widgets and pre-existing frameworks to allow you to move features and images in an empty app and construct the one you deem fit for the application development process.
The Benefits of Using a Drag-And-Drop App Builder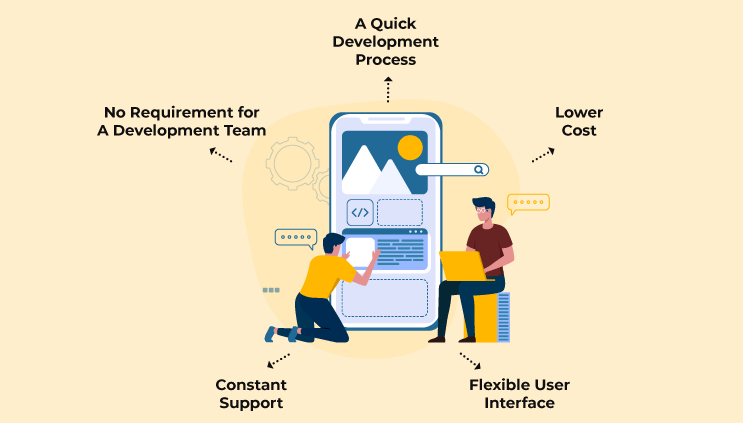 The advantages of using drag-and-drop builders go beyond the requirement of not having to write codes. The building platforms are powerful tools that help scale businesses efficiently. If you are skeptical about using the drag and drop interface, the following points will clear your doubts.
No Requirement for A Development Team Traditional app development requires a freelancer or a development agency to build apps. However, drag-and-drop app builders allow you to create apps yourself without seeking help from a development team. The process means you have control over your vision, and you do not need to brief team members or work with individuals who do not share the same passion as you for app development.
A Quick Development Process You do not need to wait or rely on external developers or anyone else from IT teams to build an app. You can use an efficient app builder, set your deadline, and work at your pace to create an efficient and reliable application to meet business requirements.
Lower Cost The average cost of an app can reach heights, and the price may not include continued updates and maintenance. Most startups cannot afford development teams or freelancers. However, a low code application builder platform can help you minimize costs by using a drag-and-drop builder with feature-based pricing lists. So, you get the flexibility to choose the tool that suits your requirement.
Flexible User Interface You can learn and master drag-and-drop builders without seeking external support. Experts have built the development tools for beginner app developers with little technical knowledge. So, the app builders are intuitive and easy for all users.
Constant Support Most drag-and-drop app builders operate depending on subscriptions meaning you pay for using the platforms. So, you also get access to the platform updates and the support team at zero extra cost.
How To Use a Drag-And-Drop App Builder to Create a Custom App?
Drag-and-drop app builders work on the same line as low code application platform. Here is a breakdown of the steps to create a custom app using a drag-and-drop builder.
Set The Goals You must consider the features you want from the app to select the correct format and design. Every business has different success metrics and end goals. So, you require different styles of applications to meet business requirements. You must ensure that the app you create links to the business and its marketing strategy.
Pick The Design Most app builders include pre-designed templates to start with app development processes. The process is a good starting point where you can tweak the templates according to the brand specifics later. You may also use an app builder that imports existing information from your business page to speed up the app development. Alter the features, fonts, color, splash screen, navigation style, etc., after choosing your template. Then, upload images for your brand to help bring your vision to life.
Create Content Content plays a role in app-building processes because it links to your goals and target audience. Try creating content that connects to your audience and use features like graphics, video, and imagery to add more weightage to it.
Pick The App Icon The app icon is an image that appears on your phone's home screen that allows users to launch the app. You can choose something relevant and eye-catching so that the audience. You can design the app icon using graphics software and upload it to the app builder.
Preview And Launch the App Preview the app before making it go live so you get accustomed to the functionalities before introducing them to the users. Try searching for dead links or errors and ask colleagues or target customers to run through the app to help optimize the user experience.
Top Features of a Drag-And-Drop App Builder
Low-code application development is an easy way for you to create apps. The drag-and-drop app builder is an efficient low code applications development to help you develop and maintain mobile and web-based applications. Here is a breakdown of the top features of a drag-and-drop app builder.
-It provides a cost-efficient option compared to development agencies for creating applications. -It provides customization options for an easy app development process. -It allows you to import website data to create apps within a short period with fewer efforts. -It enables you to add extra features to your app and make it valuable for the business and user experience.
Summing It Up
Drag-and-drop app builders are the best way to create apps as they eliminate all kinds of coding requirements. With their intuitive user interface and robust features, the app builders allow you to work at your pace and build apps efficiently that cater to your business requirements. An app-building platform like AppUp can give you a solution if you are new to app development. The platform allows you to design and launch applications that match your preferences and needs. You can customize your app with a few clicks and integrate it with other applications and services as well. Visit the 500apps website for more information.
Know Why AppUp is the Best App Builder?
#1
Functional and Scalable App
#2
Intuitive Drag-and-Drop Editor
#3
Less Coding Knowledge Approach
#4
Cross-Device Functionality
#5
Professional App Development
#6
User-Friendly Interface
#7
Availability of Visual Tools
#9
Unbelievable pricing - the lowest you will ever find
#10
Everything your business needs - 50 apps, 24/5 support and 99.95% uptime
Join the SaaS Revolution
All-in-One Suite of 50 apps

Unbelievable pricing - ₹999/user

24/5 Chat, Phone and Email Support